January 20, 2015
I'm Trina Amundsen Neel. I live in Virginia. I am originally from Salt Lake. I am a great grand daughter of Joseph F. and Sarah Ellen through my mother, Amy Miller Amundsen and her mother Minerva Smith Miller. A cousin was doing some research about the Daughters of the Utah Pioneers (DUP). She learned that Sarah Ellen was a counselor in the first presidency of the DUP but was never made a member. I have Sarah's DUP application that she had filled out and signed along with the signature of Grandpapa. It is a treasure. It has that she was member #3 but for reasons unknown she never turned it in. We were hoping to right this wrong. Last year my sister Gayle Miller, cousin Jeanetta Peterson and I met with the current DUP president, Maurine Smith. We explained the situation. We knew they did not make people members who had passed on but since Sarah had filled out the application completely we hoped they would make her a member of the organization she worked to establish. They had never done this before but decided to make Sarah member #3A We were thrilled. I think she would be happy we took up her cause. I look forward to meeting her someday and perhaps learn the story of how the application was never turned in!
Grandpapa wrote these kinds words about her,
Sister Smith had not found it possible to get out of her home for many public duties. She has nestled her brood so closely about her knees that her own hearthstone has been at once their sole refuge and her one altar. Yet in the few public positions which she has been persuaded to hold, noticeably in the office of counselor to Mrs. Annie Hyde during the first years of the organization of the DUP, Sister Smith proved herself adequate to every duty and responsibility. As a hostess she is thoughtful, gracious, discriminating and solicitous. Her table, when she entertains, is spread with the rich bounties of life.
I loved reading this and getting to know her better. I thought the descendants of Sarah Ellen might find this story interesting.
Thank you,
Trina Neel
---
---
January 26, 2015
I called the DUP office today. I asked them to check on Sarah's number so I could fill out my 4 generations form. Yes in deed she is #3. They have Sarah and someone else as #3 with an explanation by it. So yes, it is official. They did what they said they would do.
Trina
---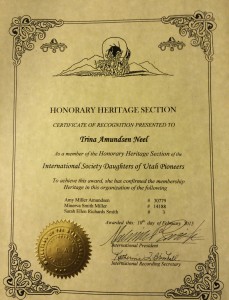 February 22, 2015
I received my four generation certificate and Sarah is listed as #3!
Thought you might like to see this.
Thanks,
Trina